Discover more from Cherub Microplastics
delivering high-quality angelic microplastics to discerning babies
Silly Little Outfits: Caley
Vests and things with my former boss a.k.a. James Fiend a.k.a. soft boi menace
Caley is an emo-at-heart queer who enjoys nothing more than being absolutely silly when they're not on the clock. You'll often find them playing D&D with friends, reading books in coffee shops, and laughing at their own jokes. They believe their style evokes James Dean, but in a very lesbian kind of way.
J: I'm really looking forward to this performance review. JK. What's your favorite outfit?
C: My floppy shirts! These button-down, camp-style shirts. They're floppy, they're not stiff, they're very breathable. They usually have funky patterns on them, which is a new thing for me. I used to just wear black and white.
J: When we worked together, I feel like you were more monochrome. Why the funk now?
C: I think… [groan/laughs]... the pandemic… and gender identity… exploration…
J: LET'S GET INTO IT! LET'S 👏 GET 🙌 INTO 📢 IT 💅
C: Honestly, I think I'm going to have to reference the graphic novel Gender Queer. I forget exactly what they were saying, but basically, before they accepted themselves and leaned into their gender identity, they tended to wear more monochrome, darker colors.
J: Why do you think that is?
C: I guess it's sort of like a Wizard of Oz moment. [When you're not accepting yourself], at least for me, it's about trying to blend in more. But don't get me wrong, I'll still rock black on black on black.
J: Yeah, I feel like some of your best looks are a little bit gothy.
C: Something that could fit in at a punk show, an indie show, a pop show, anything like that is a good black outfit. But yeah, these floppy florals right now, and I'm also leaning into these lighter blue jeans.
J: Gen Z Pants. Baggy, paler. So, pretty much what you're wearing right now is your favorite outfit?
C: Yeah, pretty much this. I tend to wear these types of shirts a lot now.
J: Why?
C: I just like the bagginess. In terms of gender dysphoria, sometimes my chest is something that I'm just like… [grimacing] eeeee. So this type of shirt allows me to kind of hide the fact that I have boobs. It gives me a leaner line.
J: And the movement's so good too! I have a few like that. Most of mine are longer, but I like when you turn around and it's a dramatic flowy moment.
C: And I've gotten really close to this guy via D&D—I call him my bromance now—we're attached at the hip, and he's kind of like my male twin. We like to joke that we're second cousins, and I found out where his family is from, and it's the same area where my dad was born. And my dad was adopted, so it's just like…maybe we are family?
J: You could be.
C: Could be.
J: There was a whole Return to Amish storyline about this.
C: Anyway, [this guy] already thought that I had top surgery. He was like, you don't have boobs! And I was like, I do!!!

J: Did you take that as a compliment?
C: Oh, fuck yeah. So I'm on that journey of like, what do I do with that part of my body? Do I keep it and accept it? Do I ignore it forever? Or do I get on that path and get 'em chopped?
J: Tick fuckin' tock, legislation-wise~
C: I know. Maybe I'll go to… Arkansas…? I think [their trans health care ban] was overturned and ruled unconstitutional. [Note: Texas's ban only applies to minors right now, but, you know.]
J: A couple other places too, I think. So your current moment, the flowy weird print shirts, the lighter jeans, more exploratory stuff in general– you've mentioned that was related to the pandemic for you?
C: Yeah, [during the pandemic], a lot of the distractions went away. Everybody's shut in, and you only have so many things you can do in your house. And the pandemic did bring on this depression, in a sense. This question of who the fuck am I, and why am I not happy? And where's my community? Why do I feel so disconnected, even though I'm online talking to people all day?

Visibility, and fear of visibility, was a big thing for me 2 years ago. A lot was just coming online for me around my gender identity, who I am as a person, and then leadership at work. Having to interact with people at work who were gonna have Feelings™ about how I present, or not know how to deal with me. 
J: That phrase comes up a lot, with myself, with people I talk to—people "not knowing what to do with you." Not necessarily in an outright bigoted way, but still as a thing that you feel the need to plan around.

The relationship between observability and the disconnect you were talking about is interesting too. I believe the cisgender response to this was tie-dye.
C: [lol]
Capricorn Daddy getting that bread
J: Speaking of visibility, I'm curious what your experiences are with presenting yourself at work, especially being in a senior management position as you are.
C: I'm happy I don't have to go to the office, because then I would have to dress more professional, more polished. as opposed to like this. I couldn't go into a meeting with [Executive] like this. 
J: I wore my vampire clown shirt to my last meeting with [Executive].
C: [LOL]. It gets into rhetoric, how I want to be perceived. Do I want to have that gravitas?
J: Yeah, in your role, you're speaking to large groups a lot of the time. You're leading a lot of meetings.
C: And I need to be taken seriously in that sense. But I've also always been the one that's never been like, I have to dress up for work. That's one of the reasons I gravitated toward tech, because I didn't wanna fucking dress up. When I worked at a call center, my first real post-college job, they required you to do business casual, even though I was just on the phone. I was like, man, I'm so over this. Having to iron a button down.
J: Having to iron ANYTHING.
C: Yes. I'm one of those people where wrinkles don't bother me, but ever since I started dating and then married Ashlyn—wrinkles were one of her pet peeves.
J: Aw. So you started ironing and steaming your clothes out of devotion to your partner?
C: Yes.
J: That's sweet.
C: Yeah. And she's a Libra. Aeshetics are more important to her.
J:  Fuck it. Let's get into that for a second. And—I ask this as a FULLY NEUTRAL PARTY—what is the relationship between your zodiac sign and how you dress?
C: Well, I'm a Capricorn, and I am known as Capricorn Daddy.
J: [LOL]
C: Because I get shit done! I am dependable and reliable, straightforward, that kinda vibe.
J: But how does that surface in clothes? 
C: I think it was the black and white for the longest time. Sensible. Classic.  [At work, sometimes I] take on a little bit more of the tech bro vibe. I can get away with a plain tee, a cardigan, some nice pants, some not-terrible shoes. If I really need to make it seem professional, I'll wear a button down that's ironed, maybe even tucked in.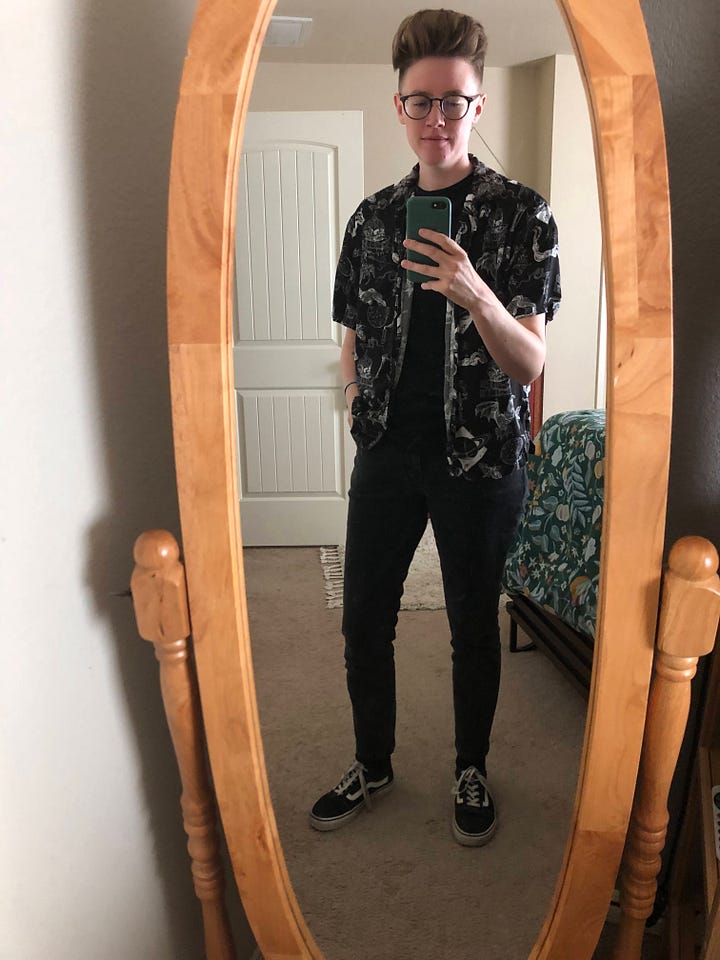 I still feel like most of what I wear leans toward that classic vibe. I'm not going to be making any kind of waves with my fashion. I think just me as a person makes enough kind of waves, so I feel like I don't need to lean into the super-fashionable things.
J: How do you define "super-fashionable?"
C: The people who are on the bleeding edge. The trendsetters. I'm not gonna wear those… funk…
J: Funko Pops?
C: No…
J: …JNCO jeans?
C: Yes.
J: People are wearing those?
C: Yes.
J: Wow.
C: Yeah, so this floral shirt is probably as forward as I will be with my fashion.
J: I love that shirt. Bikini Bottom chic, in a good way.
C: Thank you. and then I have pink socks too. So it really gives off that Patrick Star theme.
PER MY LAST EMAIL SIGNATURE
J: You're the only person I know who's sent out an email at work saying they're nonbinary. Pretty recently, too. How was that?
C: I needed to do it, I was getting tired of getting misgendered—even though I wasn't, theoretically. I did say "she" was okay too at that time.
J: It's like, use the other one sometimes!
C: But they never.
J: No.
C: Exactly. It was starting to hurt. I was just like, I'm fuckin' over that. It took a while for me to get there. That was one of the reasons why visibility was such a thing that I was wrestling with. Post-lockdown era, with senior leadership, I'm talking with people who have been at this company for 10, 20, years, and you know how they voted based on how they're reacting to like… vaccination requirements. And I'm just like, oh god, I don't wanna get in front of them and be that weird nonbinary person!
J: Yes.
C: Are they gonna listen to my message? Or are they just gonna shut me out?
J: After coming out as nonbinary at work, did you feel a need to come off as a nonthreatening, "normal" nonbinary? Like, the Big Tech clip art version of a nonbinary person? Manila folder they/them?
C: No, luckily I never felt like I had to be somebody's little token-slash-palatable queer. Because I'm not, even before I came out as nonbinary.
J: "If you thought that this was cis, that's on you!"
C: Yeah. I know we've had conversations before about how men have treated you [on femme days] at work versus how they treat me. I've never presented femme, I never experienced the patronizing kind of shit like you did, or the weird personal aggressions. With me, they'll be like, hey, cool shirt. Or hey, I like your hair.
J: Regardless, coming out in the way you did, in the position you're in, is putting yourself in a pretty unique and vulnerable position. Is that all they're thinking about while I'm leading this meeting? Am I fitting or not fitting into whatever fuckin' little box they have in their mind where the queer people go?
C: [lol] Yes.
J: How did you dress for that?
C: My fashion pretty much stayed the same. except I maybe became more vibrant, more bright with my clothes. And I recognized how loved I was by a lot of people at work. So if anybody came at me, I knew that there would be a lot of people who would step up and be like, no.
J: Has that happened?
C: No, nobody has come at me.
J: How often are you in the office?
C: Never. But I'm on calls with a lot of people. It's something that people clock and are confused by. It's always interesting to see them work through the she… they… ah… uh...
J: OH GOD OH FUCK… EUUUGHHHHH…UH..
C: …And then they move on, eventually.
Totally organic interlude
J: OK, you know how there are a lot of fashion stereotypes for different queer identities? The bisexual cuffed pant, the transmasc hoodie, that one striped shirt every gay man owns—are there any polyamorous style stereotypes?
[Caley's phone alarm goes off]
C: Oh my god, why is this going off, what am I doing… oh. [reading alarm] Place bid on denim jacket!
J: [LOL.] Wait. Hold on. This bitch is bidding on a jacket during a thing about clothes?
C: Well, this is part of my referee vision.
J: So many questions. So you're a roller derby referee. And you're buying that jacket as part of your uniform?
C: Yes. I'm gonna make a vest.
J: [lol]
C: I'm going to be ripping off the sleeves. And [my partner] Annie gave me a possum patch.
J: Love a possum. What's your derby name?
C: James Fiend. So I have a vision: for the back patch, the vision is like a skull, James Dean's head, with him wearing a cowboy hat.
J: What's this jacket like that you're trying to get?
C: Just a black Levi's jacket. I want it to potentially have stripes on it. I could either paint them on, or I could whipstitch some white fabric onto it.
J: You alter stuff yourself?
C: Yeah. I made all of my patches as well. It was a big thing that I did when TXRD [Texas Roller Derby] originally inspired me in college. I made a punk vest back then. So this will be like 2.0.
J: As someone who's not really well-versed in the roller derby world… the patches on vests, is that a common thing?
C: At least for TXRD, yeah. I would say Cherry Bombs definitely do it the most. And it's more old school. Back then, it was just a little bit more punk.
J: So you're like, connecting to the history and legacy of these teams by making your vest in this way?
C: Yeah. I'm a TXRD nerd. 
J: Did you have that alarm set to go off on purpose during this interview?
C: No!! Not during the interview. But I have 2 hours left. So I'm gonna have to reset the alarm and bid later. I like to do that final 60-second swoop. I'm an asshole.
J: It's the only way. Anyway, polyamorous fashion stereotypes?
C: Not really. The people I've dated… They're all nerds, They're all into D&D. In terms of fashion, I don't know. Nobody has offended me with their choices yet? They dress like millennials? Because they're millennials? 
J: Do you think they've been on similar style journeys as you? Not necessarily arriving at the same point, but just that piece of why am I not happy, why am I feeling a disconnect?
C: The pandemic just sprung a lot of exploration around identity and purpose and drive for people. I know my other partner has mentioned that's around the time that she started shifting her style, accepting her queerness, not wanting to be invisible or have people think she's straight just because she's married to a man. And among other people I've dated or talked to, the pandemic brought on a lot of these conversations with their partners around polyamory.
J: What a shitty time to realize you're poly. 
C: Yeah, it was shitty.
J: Logistically.
C: There were a lot of people who did pods, or who would just continually test. Other people, they knew they were poly beforehand. but for a lot of people, regardless of if it was polyamory, or gender expression, or their job… They just recognized that something about their life had to change during that time.
J: If you're okay with me asking, how would you say you're doing now in comparison? Are things better?
C: Fuck yeah. Yeah.
J: What would you attribute that to?
C: Really allowing myself to be fuller, in the sense that I'm not trying to kill pieces of myself. I think there was just a part of me that was scared of being seen and rejected for being nonbinary trans. Allowing myself to love myself more, learning what boundaries are, and learning how to communicate my feelings and needs and wants to people. I just feel a lot healthier and rooted in who I am. Happier in that sense, for sure.
J: That's nice. And all of that kind of distills into the flowy camp shirt.
C: Exactly! I'm way more flowy and relaxed now.
I don't owe you androgyny but I'm serving it anyway
J: When do you personally feel euphoria? What are the factors?
C: I've felt euphoria explicitly the first time I wore an actual binder. When my lines just feel a little bit straighter. I think that's another reason why I do still love black. It feels slimming, straighter. Also, finding fucking swimsuits that are a little more masc of center versus the more femme ones. I have a very cabana boy kind of swimsuit now. It's floral, it's very tropicale. 
J: Do you ever feel like you owe anybody androgyny?
C: I don't feel like I owe it to anybody, but it's something that I really want for myself.
J: That's your flavor of nonbinary—going for the dead center?
C: Yeah, that feels most at home for me. And I know that with androgyny, a lot of people feel like you owe them a slim body. A shapeless body, almost.
J: I wanted to talk about this. At least in mainstream depictions of it, the slimmest, straightest, most Plank from Ed, Edd n Eddy body is considered the most androgynous body.
C: It's hard. I think that's where most of my dysphoria comes from. I'm not fitting that image. That was another thing during the pandemic: I gained weight. I didn't fit that template that society said I had to fit if I was gonna have a certain type of look, that soft butch look. So that was when I was running up against a lot of these terrible body image thoughts that were really pervasive then. I've backed off of those a lot, recognizing that this is my body, and I'm not gonna get another one, and I love this body.

C: Janelle Monae did a really interesting interview lately about androgyny, about the pressures they felt around being stick-thin as well. And now they're more shapely, and they feel way more at home in their body and loving towards it. It's not that they've given up suits or androgyny at all. They're showing that you can be androgynous and still wear dresses. You can be androgynous and still be playful with shape or have a curvaceous body.
sk8r_boi.mp3
J: Is there any piece of clothing that you wish you could pull off but can't? Or that you used to idolize and covet?
C: I've always found clothes that felt right for me, that I've felt comfortable in. 
J: Does that include the hyperfemme era you mentioned you had in high school?
C: Yeah, I was actually happy with it back then. I guess the style shift happened in high school—not emo, but soft emo.
J: Soft butch… soft emo…
C: I'm very soft! Rarely hardcore! So I think then, I just didn't feel comfortable in my body at all. But I don't think many teens do.
J: It's hard sometimes to decouple like, normal teen bullshit from "Aaah! That was dysphoria!"
C: But around that time was when I recognized that being hyper-femme, or even just being considered femme, was not for me. Freshman or sophomore year. That's when I was like, I'm gonna wear band tees, I'm gonna wear skinny jeans—before skinny jeans were popular. But I was seeing skater boys specifically wearing them, boys in emo bands wearing them. I wanted to be those boys, date the girls that they were dating.
J: So at that point you knew that you did not want to date the boys. Did you know you wanted to be the boys?
C: I think there's always been a part of me that wanted to be that little tomboy. Not to be a boy, but…
J: Boi with an i.
C: Yes. I've always gravitated toward that. When I was 3, I was already that. I was running around, acting like a little boy. And my parents were totally fine with that for a bit, but once I got older, I was supposed to act more like a girl.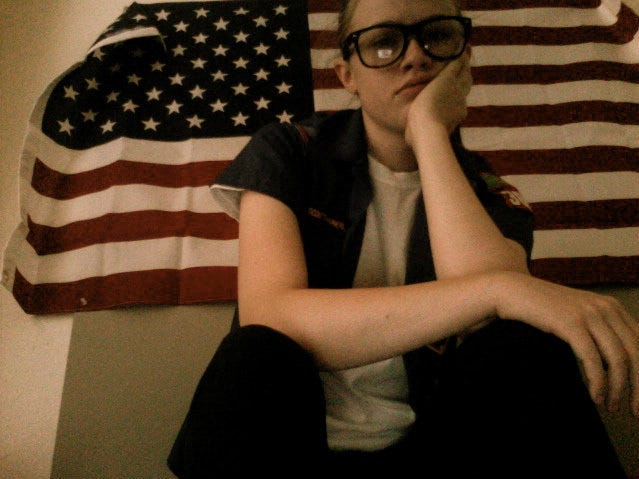 J: You kind of have a grace period. When you're 7, it's marginal.
C: Yeah, when I was like 3, that was already my gender expression, the tomboy side of things. I gravitated toward godzilla and wearing boy clothes. I didn't wanna wear pink.
J: And your parents allowed that?
C: Yeah. And they leaned into it. The grace period, like you said. Caley is just being a tomboy. I really resonated with Fried Green Tomatoes, with Idgie specifically. Not being happy in dresses, shirking it, running amok.
C: But yeah, junior year in high school, I was like, yeah, I wanna be like those boys. I want their style. I definitely wanna be cool like them. And I had crushes on their girlfriends.
J: What was the high school boy outfit that you envied? Any specific archetype? Puka shell necklace hoes [masc]?
C: Oh, no. Really just the skater boys, the punk boys. I didn't really like their behavior necessarily, but I did relate to their anti-authority vibe. We had similar music styles.
[muffled by the sound of explosions] Representation win!!!
J: We're at a point right now in The Culture™ where we have a lot more queer representation in movies and media and the news. Double-edged sword of visibility and all that. Did Pride feel like a trap this year?
C: [LOL]. I'd say there's always been people who have hated us, and we have always been legislated against. It just feels especially coordinated now.
J: Yeah. Even, say, 5 years ago, you could be genderwhatever in relative peace, because it wasn't a Bud Light talking point or some shit.
C: Even a lot of people in the queer community didn't talk about it or even support it to some extent. So maybe [trans/nonbinary/GNC people] were living more peacefully, but I'm not sure how much peace there was. I think it's pick your poison sometimes. There were some things that were easier to bear or process or feel safer about within the context of the community without the straight folks knowing. But on the flip side, there were a lot of things that were out of our reach then.
J: Do you think it's a net positive, given your experience being trans in Texas right now?
C: No, I think net positive or net negative is too simplistic. I worry about the kids, specifically. 
As someone who wants to have children, the idea of staying in Texas is hard to grapple with. And I don't trust people with power. I don't think the people in power are going to legislate and rule for the betterment of society, because we've seen that's not the case. But in terms of community, it's net positive in terms of community show-up, and we're fighters.
J: This year especially has taught me how important community is. The sheer amount of people showing up and the attitudes I've seen have made me really, really love the yeehaw queers even more.
C: It's in our history! It sucks that this is something we're constantly having to come up against, but that's why queer people continue to survive, continue to expand our rights. It might take 10 to 20 years to get back to where we were, but we show up for each other.
i c o n i c
J: We both watch a fair amount of TV and movies. Who is your most personally significant movie or tv style icon?
C: Oh, fuck. There are quite a few people. James Dean, that classic look. My hair is not exactly like his, but if I'm wearing black jeans and a white t-shirt, or a black t-shirt, I'm trying to go for that 1950s look.


It's like that TikTok—if you're a masc lesbian, you have 1) your 1950s greaser look, 2) some kind of sports jock look, 3) your english literature soft boi look, and… I forget, your slutty daddy look?
Tiktok failed to load.
Enable 3rd party cookies or use another browser
J: Wait, but…
C: …Yeah, I'm all of that. 
J: The James Dean look seems very classic Caley-when-managing-me vibe. Is there any style icon who's driving this more recent, colorful era for you? Other than Patrick Star.
C: I'm trying to think if there's one person who's actually driving it. I would say gay men! The camp shirts, they get to button it down more, be a little more slutty daddy than me, but still.
J: August and I used to joke that we were meant to be twinks to some extent. So I feel that.
C: I got mistaken for a twink, and a gay man tried to make out with me at Rain. And I was like, I'M NOT WHO YOU THINK I AM!
J: But inside, were you like, hell yes?
C: No!
J: Oh.
C: Because he was like, this little German boy, and he was drunk.
J: But hey!
C and J [simultaneously]: PASSING ✨
C: I was wearing my punk vest.
NOT a rollercop
J: Do you like your roller derby referee outfit, assuming you will get your vest situation sorted out?
C: Oh yeah, I'm going to have a lot of fun making it. It'll be a nice little throwback for myself. I loved making my original one, when I was really leaning more into my punk phase in college.
J: Does ACAB include roller cops?
C: [offended] No!
J: Why not?
C: Because we're part of the community!
J: There are gay cops.
C: But we're not cops; we're not arresting anybody. We're a regulator. We're mostly there for the safety of the skaters
J: Roller Scrum Master.
C: ….uh…
J: OK fine, not that either.
C: It's more of like, if we didn't exist, they wouldn't be able to skate. Whereas I believe society could exist way better without cops. The skaters rely on refs for the whistles. They need you to keep time, explain rules, make sure nothing dangerous and wild is happening. And do they yell at us and tell us to go fuck ourselves? Yeah!
J: It is very interesting that you have a self-described "problem with authority" and James Dean is on the back of your ROLLER DERBY REFEREE VEST as you yell at people what to do. Have you thought about this?
C: I don't yell! I'm only counting!!! I'm a point ref, which is honestly one of the hardest positions. You have to keep track of who players pass.
J: So you're not like, enforcing stuff?
C: The only time I'm going to be enforcing is if the jammer literally spearheads somebody in the back with their head. Or if somebody is doing something gnarly to the jammer. I really have no power outside of just being like, that was a penalty. 
J: So this is sounding more like SpongeBob as a hall monitor. I'm into that.
C: Yeah.
✨